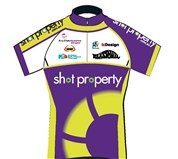 Mal Jones

Expires
Saturday, 15 June 2013
Team Shot Property
Team Shot Property is aiming to raise money for the Amy Gillett Foundation, which is passionate about improving safety for drivers and riders on our roads. Fifteen of us will be competing on the tough and competitive Gran Fondo course around Lorne, on September 16, aiming to finish in the top 25% to enter the 2013 UCI World Cycling Championships... We would welcome any contribution, great or small, that you could make!

Amy Gillett Foundation
The Amy Gillett Foundation (AGF) began its work in 2006 in the name of Amy Gillett, who was tragically killed as a result of being hit by a motorist whilst cycling with the Australian Women's Road cycling team in Germany in 2005.
The Amy Gillett Foundation's vision is for safe bicycling throughout Australia in order to achieve the ultimate target of zero bicycling fatalities.
The Foundation promotes a safe and harmonious relationship of shared respect between bicyclists and motorists – to highlight the importance of being responsible every time we head out on the road whether we're on two wheels or on four. Why? Because everyone deserves to arrive at their destination safely irrespective of their chosen mode of transport.
Please make sure you are LOGGED IN. You can only join a Team Leader page if you are logged in and have an Individual page created. If you do, it will be displayed here once you've logged in. If you don't, please return to the 'home page' and follow instructions on how to create your Individual page.
FUNDOMETER
Target
$2,000
Raised So Far
$1,455
Target
$2,000
Raised So Far
$3,185
Team Members
My Total: $1,455
Team Total: $3,185.00
Biggest Supporters:
Comfort Inn Cascades Taupo New Zealand: $125.00
Sue & Terry Avery: $100.00